Introductions
January 1, 2010
The first time i played was for my best friends brothers birthday party. His dad rented i think 6 diablo infernos i think they were. But he drove us all out into the desert where there was some hills and we played till there was no more paint. After that we all kinda got bit by the bug. i think a year after i got my first paintball gun for christmas. I was almost positive that i got a paintball gun for christmas so i snuck downstairs at about 3am and opened this big brown box and saw a red and black annodized gun and it was all mine. haha my dad heard noises downstairs and went to check it out and saw me in the dark with the gun apart. hahaha that gun was a brass eagle raptor. then i had a couple autocockers, an automag, couple spyders. anyways here is what i am currently shooting.

This is a 2007 etek, 68/4500 ninja tank, in this picture it has the freak back+all-american 18" tip+apex tip, normally i have a dye rotor but in the picture i have the pinokio on.




And this other little guy is a T8.1 oh yes... over a football field of range.

July 8, 2013
Some ppl on here already probably know me I go by the name Pharcyde and I play for the Suicide Kings and yes we are still around I'm looking to get out and play some more and as for markers I shoot its only egos
May 22, 2013
So S.T. Isn't really a paintball team were really small group of seniors in HS and recent graduates with the life long dream of becoming SF (Special Forces) most of us want to be SEALs. We have a couple of friends who are ex military and are very good family friends who decided to get us ready for what we will have to endure through training in one year. So we would like to run some operation with paintball guns and markers. We only have about four of us so we can't run two on two operations, so if we can get a group of 5-15 opponents that'd be awesome! We'd want to run things like hostage recovery, ambush offense and defense, P.C. Transportation, raids, recon missions, and information recovery. So this would be like really high speed and highly technical milsim paintball. No these wont be games going noon-5:00 were doing things that would last anywhere from 24-36 hours. We don't care I you're a beginner or a pro. We do care that you try not to wear some stuff like sweat pants and shirts just not like actually U.S. military gear. But I'm pretty sure most of you will wear U.S. gear anyways so go ahead and e-mail me at xsnipkillax@gmail.com Thanks for reading and Semper Paratus!
May 29, 2013
I'm Andre and I'm Rollin for a paintball team to play with . Not no game here and there. I wanna play every week if not multiple times a week . Hmu via Email imandredavis@gmail.com
May 24, 2013
Hey guys, I just moved here (well, the Air Force moved me here) and saw your group on craigslist groups. I've always loved paintball, though it was too expensive for a kid/college goer to afford on a regular basis. But if there are people out there who love to play and will do so regularly, I'm all in! I own a couple tipman 98's from when I was 14, but I think they need to be retired. Anyway, glad there's some people around here who love to do more than just drink and gamble!
-- Edited by Zerah on Friday 24th of May 2013 07:30:32 PM
May 22, 2013
Well I'm getting old but I really miss it would like to find a place to play
May 16, 2013
Hello my name is gerrett. im 19 and ive been playing paintball for 8 years now. my first gun was a spyder esorit and ive raped people with pro guns for the past few years. i recently picked up an azodin blitz. and i run a blitz with a invert halo too hopper, and a empire 3000 psi 47cu tank. i wanna look for a speedball team who is looking to actually participate in tournys. but if not i just wanna get in contact with players for an every week game
May 18, 2013
I used to go by the name Hit.. looking forward to talking paintball again with everyone. Truly miss the sport. I miss the family feel.
May 7, 2013
I just wanted say hi !  and ill check  for future games .
December 16, 2012
Hi my name is scott guzman im semi a part of the nor*cal devision i work with our good lady Dee and say hi to chazz on occasion good to see the forums and hope to be a part of it but to the future we go
February 14, 2012
Hi all new here but glad I found ya. I have not played in years but am gettin back in to it alot. I used to play at pabco fields way back when. LoL used to go out and play with area 51 and was great ! Since been back playing have checked out a few of the regulation feilds and it's all speedball and deff not my thing very glad I found 702paintball ! Can't wait to go out and play a good old fun game of paintball. I like to play old school I shoot with an Automag it has Ule upper with cocker thread, level 10 bolt, trigger, and dye grips, dropdown, and boomstick barrel. I also use a Tippmann 98 custom with cyclone feed hopper, response trigger, upgraded bolt, cp barrel, and udjustable but stock. Well hope to meet a bunch of you soon we have about 4 to 7 of us in our group that all play together at least once a week since we have gotten back into it.
February 9, 2012
Hey my name is alfonso I used to play when I was younger I'm 23 now and go at least twice a week mostly to Lvpp or extreme paintball most of the time there's hardly any players if anyone is going out feel free to text me 702-5214060. Thanks.
December 7, 2010
Hey,
 My name is Chris... you can call me Blink thu. I used to shoot back at house of paintball once apon a time and now looking to get back into playing. I shoot a tippmann 98 and just looking to meet some cool locals to shoot all kinds of games wit
February 5, 2012
Hey guys i have lived here in 702 for most of my life but didnt really know where to go and with who so hope to play with you guys sometime I play with a Proto SLG 08 nice gun with Pure energy tank Ninja reg and a crappy vl force saving up to get a Rotor but will take some time
May 12, 2010
Here are some of my toys


-- Edited by DEMONKNIGHT01 on Saturday 21st of January 2012 04:54:48 PM
-- Edited by DEMONKNIGHT01 on Saturday 21st of January 2012 04:56:15 PM
November 19, 2011
Hy Dud,
My name is Vinicius Sanvi, for my friends just "Sanvi", first, sorry my bad engLish. I'm Learning.
i'm brasiLian pLayer and i have a trip to Las vegas in February/2012. i wouLd Like know your pLaces to pLay...
!
I have a T68 marker and secundary T8.1, my team is the "Partisans PaintbaLL and MiLsim"...
-- Edited by Vinicius Sanvi on Saturday 19th of November 2011 03:30:47 PM
August 17, 2011
It's been a while since I have played but at the moment it's kind of hard to do so all the way here in Afghanistan. However, as soon as my depoyment is over I will be jumping back into action. For those of yo that do know me I used to go by Silkdawg. I decide to leave that name for my XBox Live account. I started out with 702 Recon which dissolved then a few of us formed VBO. The last I got to play was during the Randy Coutour Charity event in Mesquite. After that event I either had training to do for my deployment or the timing was bad to play at the time. As for tools of "destruction" I have a Tippmann X7 with a collapsible stock, response trigger, remote line toa carbon fiber tank. I also have a RAP4 LE that I got back in 2005. I have yet to use that in any type of game but I will be upgrading the marker and using it in a few games after my return home. I would put pics up but I would have to be home for that so I will do so when I am on my leave.
July 12, 2011
Zoolander here, repping in cali.
July 3, 2011
hey guys im john used play alot with the guys from otown if you on jed and caz whats up.  been along time ran into to some ruff times so stopped playing now things are starting to clear up im turning 30 this yr have a wife n son. i rock a spyder elcetra im looking for a good shop to have so work done on my electra any idea i tryed calling west side but phone number i had was not good any help woudl be great
May 8, 2011
Hello My name is Mike and I have been playing for about 4 months now.I got hooked at birthday party at LVPP and havent been able to stop playing every chance I get since then. I was lucky enough to meet Travis and his son there and got the invite to play with the Knights at APEX. A totaly different enviroment and group of people. The Utah trip was the most fun I have had in a long time. Just a great group of people to play with, and I hope to get the invites in the future. I am hooked on playing woodsball and i am looking to retool the gear so I can blend in a little better. It is not easy to hide with a lime green mask.   Thanks again 
March 22, 2011
Hey, I'm Vincent. Some of you on the Demon Knights already know me. I recently played in the UWL tourneyment with the team and really enjoyed it. I'm planning to do alot more with the team and get more experiance. i just decided to post something up for you guys to know im here  and having a great time.
LETS GO DEMON KNIGHTS!
February 12, 2011
Hey guys, I play in a woodsball team in WI and am searching for some guys to play with when I get out to Henderson.  Looks like I came to the right place.   I'm a weekly player and am looking forward to the move.  Right now my main markers are a modded A-5 416 and GoG eNVY.
Great site though, guys.  Looking forwad to getting out there.
January 12, 2011
Hello i am new to this forum and i have heard nothing but great things. My custom Bob Long " Ghost" G6r is on its way in a week or so and looking forward to using it !!! i would really like to meet more people like me that are very passionate about the sport. I live down the street from combat zone which is a dope spot. we usually play weekly. shot me a text if you and you friends or just you would like to join us 702 308 7145. we do no mind what skill level you play at. Lets start the New year blasting !!
ps if you need some extra guys text me.
isaiah g
January 10, 2011
i moved here from kadena japan were i was stationed for two years and played just about everyweekend. we started with some really bad rentals, then i bought my tippmen 98. moved here about two years ago and just last year bought an a-5 now im feeling kinda bad cause i havent used it :). well recently found some friends at work who i asked if they would play......... then i didnt know were to play so youtube has lead me here. so looking to get back into paintball after about a 2 year drought.
December 29, 2010
kinda new into vegas but looking to start playing again, used to play alot up in vancouver, woods ball , speedball, whatever as long as im shooting paint. i play pretty much only pump but will stand head to head to a semi anyday. 
i got an ccm s6 , bob long vice, phantom, and a mini sniper.
i work weekends alot late hours ( good old vegas ) so looking for players and games on like week days later in the day or maybe sundays late afternoon.
any pump players out there looking to start a team and own shit hit me up.
December 8, 2010
Here is our next Mega Game.  This is our last in our series of charity events.  This one will benefit the Army ROTC of Dixie and SUU.  We are also providing discounts for groups of 5 or more.  It is only for pre-registerd groups.  Hope to see you all there.
http://www.apiratesparadise.net/paintball/battleofthebulge.html
December 18, 2010
Hey everybody, my name is Tim.. and i've been bitten by the paintball bug.
I had a huge interest in paintballing about 11 years ago, but my parents wouldn't let me have a gun.  Time passed and my interests changed..  Played for the first time two weeks ago at LVPP and now I have an invert mini w/ a virtue board on the way.  Along with a vforce profiler, and invert too hopper.  I'm really excited about getting into this sport finally..  Still havnt picked out a tank yet, but I have some time.
October 27, 2010
Hey guys I seriously forgot to introduce myself! name is Howie!
I just got into paintball 3 months ago randomly when my family wanted to go. We headed over to LVPP and from then on I was HOOKED!... I'm happy they introduced it to me! Random they wanted to go because advertisement for Paintball here in vegas is non existent. I own 3 Markers BT-TM15, Invert Mini, and my new sexy DM10!
I've only been to LVPP and love the field and the great ppl that work/play there. Id like to check out the other fields in the future. I'm into woodsball but been loving the Speedball scene.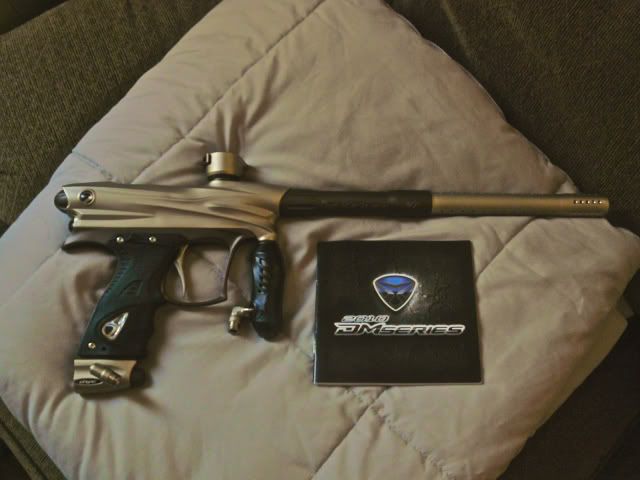 October 23, 2010
Sup guys, Just want to introduce myself name is Mike but u can call me SpaNkY since thats my username. Still a newbie just started playing last month. Played with some friends at LV premier but now we play at Bonehead every weds. About  myself, Im a pretty chilled guy looking to make friends and learn about the sports. Im always down to play if the funds and schedule permits me. So if u need some people feel free to pm me and will let you know if i can.
See you guys at the field!!!
October 17, 2010
Hey guys just thought I'd introduce my self.  My name is Alex but you can call me Newey.  Anyhow Im new to the site not to paintball or vegas.  I just started to get back into paintball recently though.  I play with greg or better known as astars15 here on the forums.  I have a Smart Parts Ion specs stock board/virtue eyes/tech t bolt/el cheap0 45/3000 tank.  I have a Halo B v35 hopper.  Just looking to start playing alot more becuase its so much bloody fun.